Free Book: How To Attract More Qualified Leads, Close More Sales, And Boost Your Revenue... Using Online Advertising That Works!
No catch - Just pay $6.99 USD for shipping!
We'll Pay For The Book... You Just Cover Shipping!
A $23.00 Value... Free!
Currently, the book is for sale on Amazon for $23.00 +tax. But for a very limited time, we'll gift it to you completely free of charge... Just pay a very small fee for us to ship it out to you ($6.99 USD!)
Paperback & Digital Download
Everyone learns differently. That's why when you request your free paperback copy today, you'll also get instant access to the audiobook and ebook so you can listen in your truck, or wherever!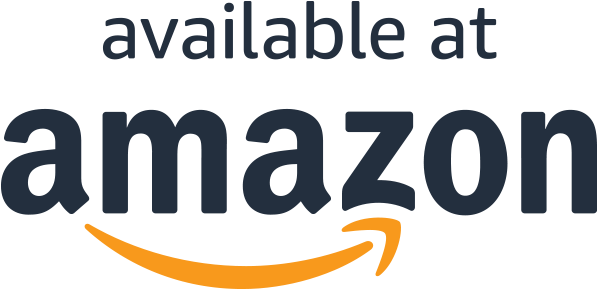 130+ Pages of AMAZING Information Based On Real Case Studies of Other Flooring & Renovation Contractors...
Here's Just The Tip of The Iceberg of What You'll Learn Inside This Book:
How to Catapult Yourself to The Top of Your Market in Record Time & Compel Clients to Chase You... Instead of You Chasing Them! (page #17)
The No-Lose Principles to Easily & Ethically Command an Endless Supply Of 5-Star Reviews So You Can Gain Trust Faster & Sell BIG Jobs Without Fail! (page #30)
The ABC Formula to Craft a Simple 1-Page Website That Converts More Leads in One Month Than Most Websites do ALL YEAR!

(page #44)
The Most Dependable, Reliable & Profit-Centred Method to

Drive Red-Hot Prospects to Your Landing Page...

Instantly!

(page #59)
How to Flood Your Phone With Local Prospects Searching For Your Services—Without Spending a Dime on Advertising! (page #79)
How to Instantly Build Rapport & Get a Big One-Up on Your Competition by Sending Simple Emails... On Autopilot! (page #89)
The 5-Minute-Per-Day, No-BS Guide to Quickly Building

Trust, Credibility & Authority on Social Media—So You Can Get More Customers & Referrals! (page #109)
How Matt from MC Contracting Got 200+ Qualified Leads in ONE Month, Quadrupled His Monthly Revenue, & Hired 4 Full-Time Employees In Only 1 Season! (page #121)

What Our Clients & Readers Are Saying...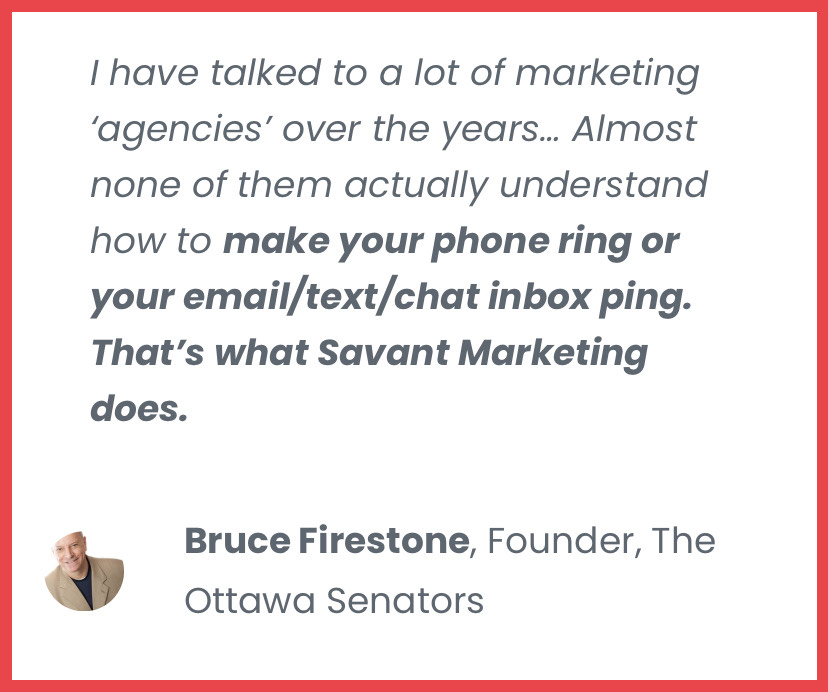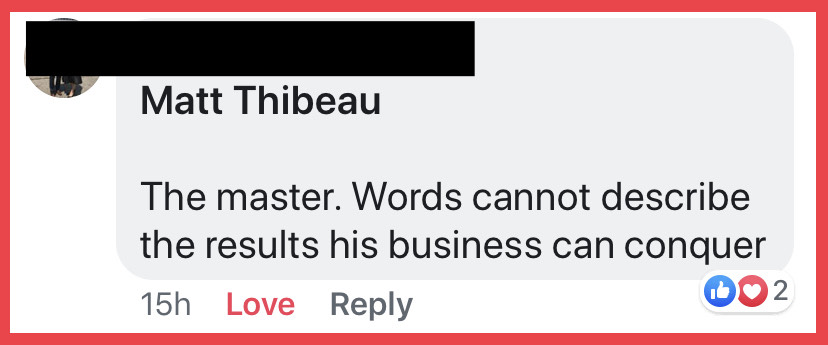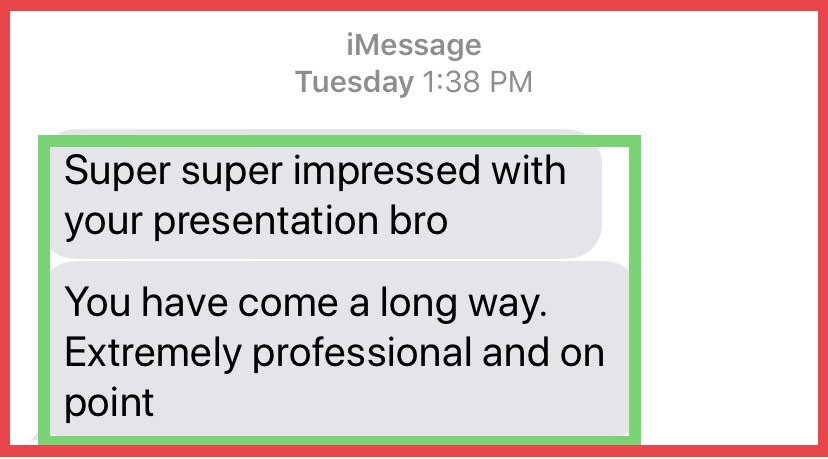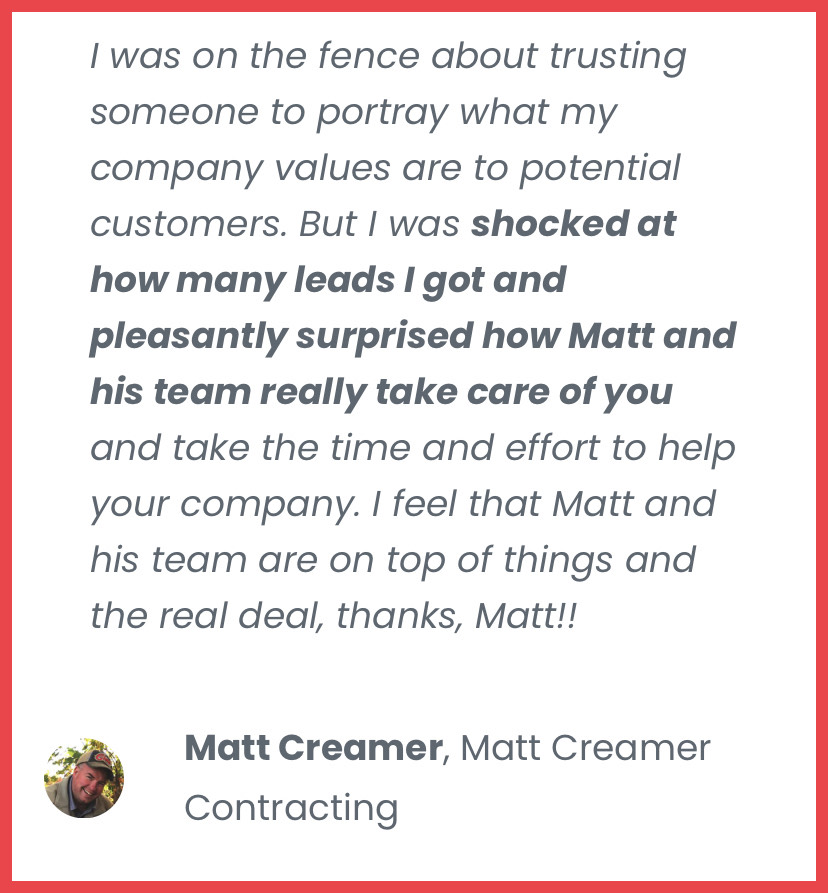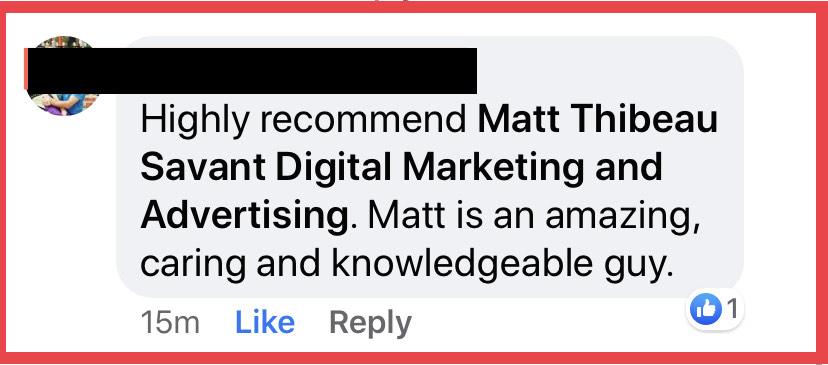 This site is not a part of the YouTube, Google or Facebook website; Google Inc or Facebook Inc. Additionally, This site is NOT endorsed by YouTube, Google or Facebook in any way. FACEBOOK is a trademark of FACEBOOK, Inc. YOUTUBE is a trademark of GOOGLE Inc.
In the nature of transparency and authenticity, we do make a special offer at the end of this material only if you'd like help actually implementing these lead generation tactics and strategies. Is it required? Absolutely not. Will you receive value & insight even if you don't want to speak together? 100% yes. Some people will take this information, implement it by themselves, and see breakthrough. Some people will see what's possible, and know that working together is just what they need to get results even faster. It's completely up to you but we hope that you'll at least consume this free information, apply it, and let us know what you think!
DISCLAIMER: The sales figures and results discussed in this content are our personal results and in some cases the sales figures and results of previous or existing clients. Please understand these results are not typical. We're not implying you'll duplicate them (or do anything for that matter). The average person who consumes any "how to" information tutorials get little to no results. We're using these references for example purposes only. Your results will vary and depend on many factors including but not limited to your background, experience, and work ethic. All business entails risk as well as massive and consistent effort and action. If you're not willing to accept that, please DO NOT READ THIS BOOK.